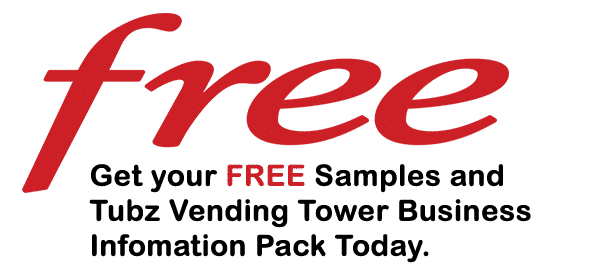 "We use your personal information to provide the services you're requested (i.e. process your order). We may also use the information for auditing research and analysis to operate and improve out technologies and services. We will not pass your details on to any third parties"
Why TUBZ is No.1!
TUBZ is a new brand and it's like a breath of fresh air to the staid vending business, changing customer's expectations with its new exciting, quality and fun products. Backed by years of experience in the vending trade, we know what works. We have built our reputation on a reliable and personal service, offering real value for money with top quality products. We source only the finest produce from around the world – that's what makes TUBZ unbeatable.
Our product is so good it has now been copied but don't be fooled. If you want quality at affordable prices Tubz is the only brand.
Our market research has shown that TUBZ out sells its market rivals in the vending dispensers by at least 30% and in some cases as much as 150%. This is due to the unique clear container allowing customers to see the product inside. This makes for a great impulse purchase encouraging customers to come back again and again.
The Vending Tower
Until a few years ago the only vending dispenser on the market was the bulk vendor. These dispensers are now perceived to be unhygienic, only vending a handful of product and in many cases without any ingredients labelling or sell by date. Many EU countries are looking to stop or restrict the use of these bulk vendors as they do not meet the new government EU legislations for food labelling and packaging.
TUBZ Vending Towers are the next generation of vending dispensers, with sealed containers and dozens of products to choose from, designed specifically for the UK market. The TUBZ brand is the perfect choice!
Once sited our unique TUBZ Towers allow 24-7 access to your customers like silent salesmen 365 days a year, even working when you are asleep or on vacation. TUBZ Towers can hold 9 different products (up to 81 tubz in total) which vend for £1, giving excellent profit margins.
They can be fitted to a wall, on a stand or simply sit on a bar top or flat surface.
The dispensers are manually operated with no need for electricity and come complete with instructions.
There are millions of potential outlets for this dispenser and it is easy to site and sell this well known and loved product.
The TUBZ concept is used in the hotel & catering industry, sports canteens, video shops, gas stations, licensed trade, offices, shopping malls; in essence anywhere there is a through flow of people.
The Towers offer a great service to customers and are very easy to operate. You are just one twist away from the tasty TUBZ snack of your choice.
Exceptionally reliable our exclusive TUBZ vending towers offer an ingenious and timesaving way to display and serve our unrivalled product.
Why TUBZ is No. 1!
When Tubz Brands first started out in the vending Tower market we had the sole importation rights for the UK to the most popular Spanish branded product.
As the business grew in the UK we quickly realized the Vending Tower concept had great potential but the European branding and products were not right for the UK market.
The Spanish metal containers often did not have any English writing making it hard for the customer to see what the product was in the vending Towers
Metal Tins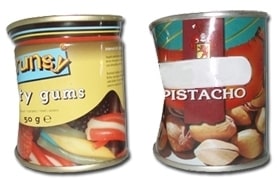 With this in mind we developed a more UK friendly branding with much clearer product pictures and writing for the UK market.
We initially saw a nominal increase in product sales through the Vending Towers but not as much as we had hoped.
Along with the disappointing increase in sales we still had many inherent problems associated with using the metal containers. Such as: The tins would easily dent during transport which would mean they would jam in the Vending Towers (see pictures opposite of our own brand metal container and a Spanish brand), and the metal lids would rust making them unattractive to the customers. (See pictures 2 & 3 on 'container lids' section below).
Competitors Container Lids

Cardboard Composite Cans
Of course the more dispensers we sited the more the problems with the metal containers became apparent.
We then decided to trial various different packaging materials to see if we could find a better alternative to the metal containers.
The easiest and cheapest alternative we found was card / metal composite cans which were much cheaper to produce and would stop at least some of the problems with the metal containers. So we carried out extensive field trials to see if this could find a viable alternative.
Although the Cheap Card Containers did reduce our costs allowing us to trial new products, the sales with like for like products still were not significantly increased. This along with the fact that the problem of the cans going out of shape and jamming the Vending Towers seemed even worse, this also caused the containers fresh seal to break! (See picture opposite and item 1 above of our own and competitors brand cheaper card / metal composite cans). Also the cans would turn in the Vending Towers only showing the ingredients labeling not allowing the customers to see the product pictures. All this meant that we had to radically re-think our container design to vend more efficiently and get the significant increase in sales we had hoped for.
Product Comparison
We then decided to ask a professional marketing company who had experience working with large supermarket chains and other corporate brands, to look at our Vending Tower concept and design a brand and product range that would resolve all the problems that we had experienced and achieve the sales we knew could be possible in the UK market place.
They came back with Three key recommendations that would change the Vending Tower market for good!
1. The UK nut market is worth around 200 million as opposed to the UK confectionary market which is worth Billions! Concentrating more products in this sector along with other healthy snack and non food products would ensure increased product sales.
2. Creating the TUBZ brand that ticked all the boxes of a good brand name: Ease of customer recognition, appealing to all ages, bright & inviting colours to encourage impulse purchasing.
3. Most supermarket chains and corporate brands are now using clear packaging as they have found through expensive and lengthy trials customers are drawn to products especially snack & food where they can see the product itself. This is especially important in vending where the impulse purchase is key to success! (See product comparison below of Tubz & competitors products).
With this information we carried out our own field trials and we were amazed by the results!
Just by changing our existing products over to the TUBZ clear flexible containers we instantly saw an increase by least 30% and with the introduction of our UK style confectionery lines we saw as much as a 150% increase in sales. Also with the new flexible clear food grade plastic container we were able to eradicate the products going out of shape and jamming the Vending Towers.
Confident with the field trials Tubz Brands invested nearly half a million pounds in manufacturing & computing equipment, staffing and premises to make us the first UK Vending Tower product & equipment manufacturer. This would allow us to be in full control of our products, services and equipment enabling us to ensure product quality and supply better than any other UK supplier.
Over the last 3 years the TUBZ brand has gone from strength to strength making it now the No. 1 Vending Tower brand supplying more product to more operators than any other company in the UK!
Tubz, Clearly the right Choice!
The UK snack business is now well developed, with the average person consuming 5.7kg per year. In value terms, sales of snacks in the UK totalled over FOUR BILLION pounds last year alone! With the flexibility of the TUBZ brand and new Toy and Novelty products range, the possibilities really are endless for you and your customers.
So whether you are an existing business or an individual looking to take advantage of a profitable new vending concept, make sure you choose the only brand made in the UK for the UK market! TUBZ.